---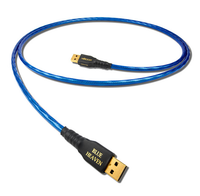 BLUE HEAVEN USB 2.0 CABLE
Do USB cables make a difference? Hi-Fi News tested a group of cables - here is what they found:
"It would be glib to suggest Nordost's cable sounds especially 'heavenly', but it did sound subjectively quieter than most of the others here, a reflection of its freedom from grit and grain"  read the review
The Blue Heaven USB 2.0 Data Cable sets a new technological and performance standard when it comes to computer audio. Nordost's proven, proprietary FEP and Micro Mono-Filament construction delivers low dielectric loss and minimizes cable induced timing errors in critical digital signals. This cable is purpose built from four OFC conductors, optimally dimensioned for digital signal transfer. These are precision wound, double shielded and terminated, all in the USA to ensure geometrical and sonic consistency. Full metal jacket, in-molded connectors extend both precision and shielding, while gold-plated contacts maintain optimum signal transfer. The result is an ultra high-speed, low-loss cable, specifically designed to deliver the best possible performance from computer audio sources. Superior technology, superior materials and superior build quality all add up to one thing–superior sound.
Reviews
"The Nordost Blue Heavens represent fabulous value. Coming into this review, I was of the mind that cables were the absolute last things in my system that I would spend my hard-earned money on. I maintained this stance even after reading Nordost's own "Foundation Theory," available on their website, which suggests that the foundation of a listener's system should be not the speakers, amplifier, or source, but the cables. I dismissed such a notion out of hand, probably because it flies in the face of received audiophile wisdom.
Without addressing the merits of the "Foundation Theory," I concede that the Nordost Blue Heavens have brought to my system the greatest jumps in musicality, soundstaging, and transparency that I have heard. Their honesty finds a home in each and every recording I throw at them, and I could not be happier with the results. Secure in the knowledge that these Nordost cables will neither editorialize your music nor unduly burden your wallet, I can offer only my strongest recommendation"
read the review in Soundstage
SPECIFICATIONS


Insulation:
 
Fluorinated Ethylene Propylene (FEP)
Construction:


 
Mechanically tuned lay, Micro Mono-Filament and twisted shielded pair
design
Conductors:
 
4 x 20 AWG
Material:
 
Stranded silver-plated 99.9999% OFC
Overall Shield Coverage:
 
100% Total coverage
Velocity of Propagation:
 
86%
Termination:
 
Type A or B USB 2.0