Over the past 25 years, Shunyata Research has earned a reputation for producing the highest-performance power distribution systems on the market.  Whether providing clean power for James Guthrie's re-master of Dark Side Of The Moon or unearthing never-before-seen signal resolution in heart surgery systems, Shunyata Research's results have been consistently transformational.  With unequivocal critical and professional acclaim as a backdrop, Shunyata designer Caelin Gabriel set out to produce a truly reference power conditioner that set new standards in performance but at a price that every audiophile could afford.
The Denali 6000/S v2 adds measurably improved performance and technology to a design that had already won multiple Product of the Year Awards and raves from every critic that reviewed it. Design advances within Denali v2 include objectively lowered noise, double the outlet zone-isolation, and superior high-current performance for amps and other high-current electronics on all outlets.
The Denali 6000/S v2 features patented technologies and proprietary components that are unavailable in any other competitive product.  The Denali supplies unrestricted peak current to multiple components while dramatically reducing noise from the power line and intercepting noise from component-to-component interactions, isolating each component in the system.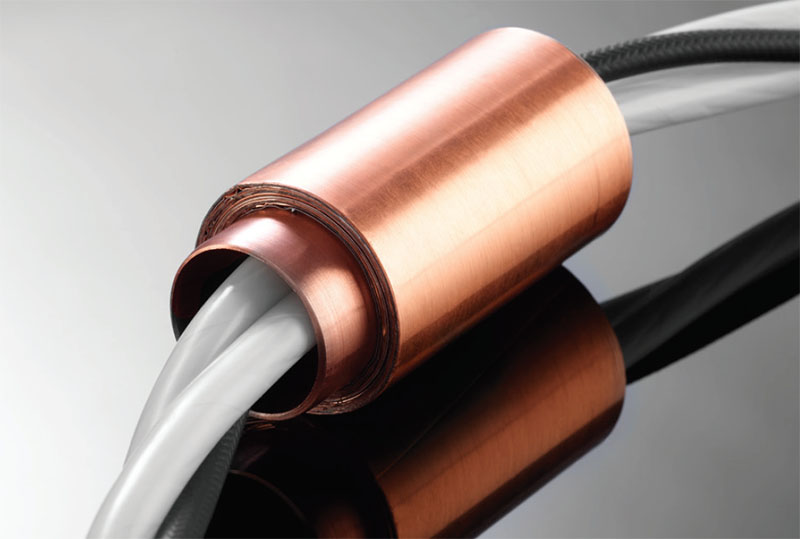 The NIC™ (Noise Isolation Chamber) is a patented technology that reduces high-frequency power line noise. NICs™ use a non-reactive ferroelectric substance that actually absorbs high-frequency noise. This allows Denali power distributors to reduce noise without any of the negatives associated with conventional power conditioner designs. Patented QR/BB™ technology dramatically reduces the sense of dynamic compression often heard when an amplifier is connected to a conventional power conditioner. Dynamics are actually improved when an amplifier is connected to the Denali even when compared to a direct connection to the wall outlet.
Patent Numbers: US 8,658,892 and US 10,031,536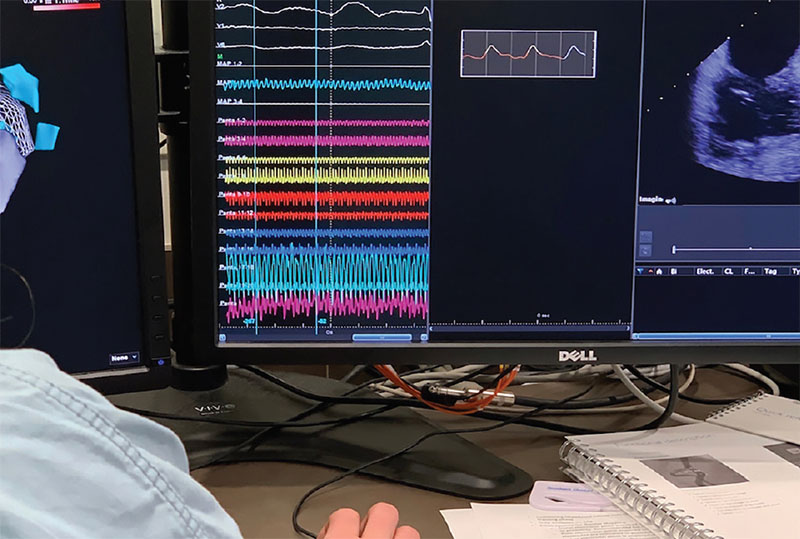 Traditional power conditioners are designed to block incoming noise from outside the home but do not address the noise that is generated by the electronic components themselves. In fact, most conditioners reflect noise back into other components connected to the power conditioner. CCI™ (Component-to-Component Interference) is one of the most significant but often overlooked aspects of power system performance. The CCI™ filter consists of a proprietary multi-stage filter that reduces electrical noise and power supply-generated interference.
"I've written about many Shunyata products over the years, and even now I can't imagine listening without them. All of that experience has led me to understand Caelin Gabriel's method, boiling it down to three important precepts. First, when it comes to power conditioning, Gabriel wants to do no harm. His products employ no transformers or regenerators; they are totally passive, simply filtering the AC as it passes through them instead of trying to reconstitute it between input and output. Second, as discussed above, he believes in measurable performance, perhaps as the outgrowth of a desire to take his products, and the entire category in which they reside, from out of the purely subjective realm and to ensure that results are repeatable. Finally, he has often been able to improve his products over time while also lowering their prices. This has happened with his power conditioners, but especially with his power cords, he has espoused this less-and-more approach. This is a definite sign of an important audio maker, one whose work progresses over time because it is not specifically tied to the creation of a product line. It's first and foremost about the technology and pushing it forward"

Marc Mickelson, Editor — The Audio Beat
"Shunyata Research's New Everest 8000"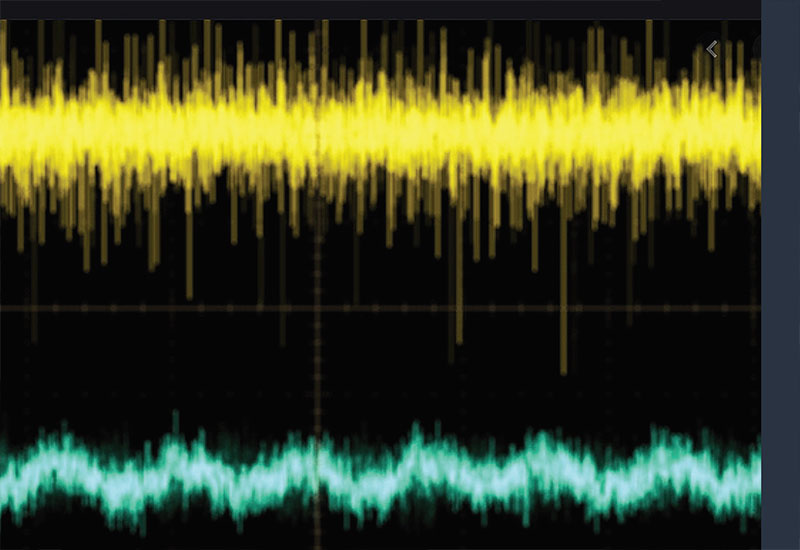 GP-NR NOISE REDUCTION
When it comes to reducing noise, much focus is appropriately given to the electrical power lines that feed the audio system, but a significant amount of interference may also enter the system via the ground lines. These lines act as antennae, drawing in electrical noise that interferes with the operation of the connected components. Ground Plane Noise Reduction is a proprietary technology developed by Shunyata Research to significantly reduce the interference caused by this phenomenon, thereby providing a more pure audio experience.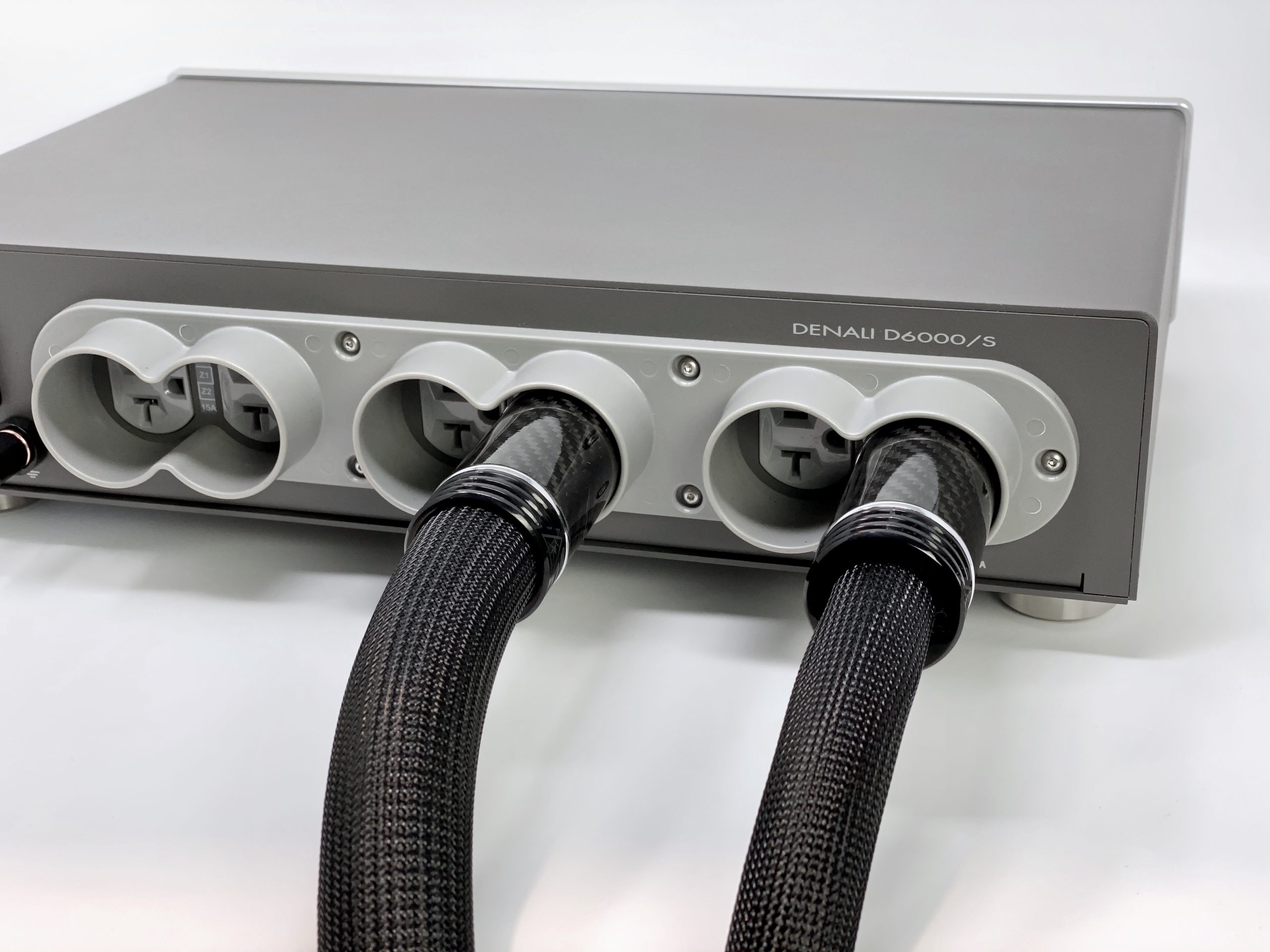 CABLE CRADLE SYSTEM
Shunyata Research introduces a unique solution for the problem of heavy high-end power cables. The innovative Cable Cradle supports the weight of the power cable, preventing it from pulling away from the outlet. This system is designed to ensure reliable and secure electrical connections.
"The Denali D6000/S v2 … displays no deleterious sonic effects — zilch, zero, zip. With the D6000/S v2, instrumental lines are more clearly delineated and purer throughout their range. The music sounds more effortless, detailed and dynamic"

Marc Mickelson, Editor — The Audio Beat


CopperCONN™ CONNECTORS
Shunyata Research has developed its own line of CopperCONN™ connectors that feature solid copper contacts that have superior conductivity compared to bronze or brass contacts used in common connectors.
These connectors are not just beautiful, they functionally reduce micro-distortions.  They are hermetically sealed with an electrically inert compound that protects the contacts and wires from corrosion.  This also ensures that the wires cannot become loose, fray, or pull out from the headshell.  This guarantees a lifetime of reliable performance that does not degrade over time.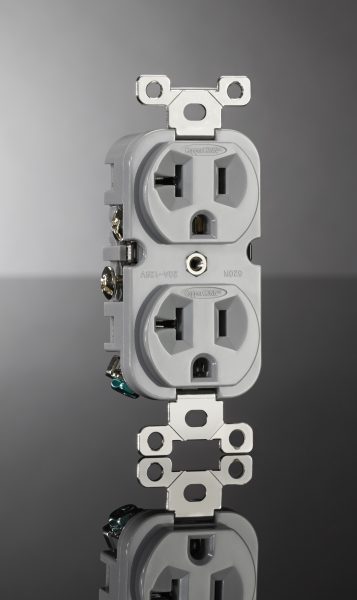 "The Denali D6000/S v2 may be tucked into the middle of Shunyata Research's current product lineup, but it's a true reference-level power conditioner without a true reference-level price. It gets my vote for Caelin Gabriel's best product yet"

Marc Mickelson, Editor — The Audio Beat


KPIP Black Bird Processor
KPIP™ PROCESSING
The proprietary Shunyata Research, Kinetic Phase Inversion Process was created to significantly reduce the amount of time required to burn in cables and power conditioners. It also has a performance-enhancing effect above and beyond simply burn-in.
Four days of continuous KPIP™ processing dramatically reduces the ups and downs of new equipment and significantly improves sonic performance, delivering a relaxed and life-like presentation.
LIMITED LIFETIME WARRANTY
The unparalleled craftsmanship and build quality of Shunyata Research products is backed by a limited lifetime warranty. The Denali 6000 is a prime example of our commitment to superb performance backed by exceptional quality, warranty, and customer support.
— Valid only in the US and Canada —
Shunyata Research stands alone as the industry leader in patented power technologies and measurably superior performance.
Maximum Voltage
90-125 VAC r.m.s. unregulated 

Input Current Ratings
Maximum Continuous Current: 20A

Output Current Ratings
Max Current/Outlet: 20A

Transient Suppression
Maximum Transient Protection: 40,000 A @ 8/50 μs
Over-Current Protection
Hydraulic Electromagnetic Breaker
Wiring System
8 gauge ArNi® VTX™ Buss system
10 gauge ArNi® VTX™ wiring
Ratings: 600 V 105° C
Noise Suppression
Input to Output (100 kHz – 30 MHz): > 50 dB reduction
Zone to Zone (100 kHz – 30 MHz): > 60 dB reduction
Outlets & Connectors
Zones of Isolation: 6 Zones
Inlet: IEC C19R
US Outlets: 6 NEMA5-20R

Vibration Control
Vibration dampening panels (internal)
AC outlet dampening gaskets
Shunyata Isolation SSF-38 Footer
Construction
Aluminum and steel chassis
Anodized, brushed aluminum faceplate
GPNR
Length: 80 mm
Diameter: 38 mm
Dimensions
Width: 17 inches (43.2 cm) Depth: 10 inches (25.4 cm) Height: 4.4 inches (11.2 cm)
Weight: 17.5 lbs (7.95 kg)
Audiofi is your Shunyata dealer in Vancouver, Canada, we ship free