---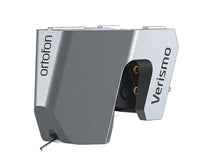 Ortofon Verismo MC Cartridge

"Housed in a titanium body produced by Selective Laser Melting, the low-output Verismo moving coil features a diamond cantilever to which is attached a Swiss-manufactured Replicant 100 line-contact stylus shaped to resemble a cutting stylus as closely as possible. MF found the Verismo's sound "fast," with sharp, finely drawn high-frequency transients yet with a lush and generous midrange and a tight, nimble, well-controlled bottom end—"knit together into a coherent sonic package." He found that the Verismo "deftly places well-focused, three-dimensional images in a natural-sounding space." (Vol.45 No.1 WWW)"
read the review in Analog Planet
Stereophile Product of the year
The Absolute Sound Golden Ear Awards
2022 September 2022
By Andre Jennings
"...The MC Verismo offers up the most truthful evenhandedness and musical transparency that I can recall from this manufacturer..."
Specifications
Output voltage at 1 kHz, 5cm/sec. 0.2 mV
Channel balance at 1 kHz 0.5 dB
Channel separation at 1 kHz 25 dB
Channel separation at 15 kHz 20 dB
Frequency response 20 Hz-20 kHz +2 dB/- 1 dB
Tracking ability at 315 Hz at recommended tracking force 80 µm
Compliance, dynamic, lateral 13 µm/mN
Stylus type Special polished Nude Ortofon Replicant 100 on Diamond Cantilever
Stylus tip radius r/R 5/100 µm
Tracking force range 2.5-2.8 g (25-28 mN)
Tracking force, recommended 2.6 g (26 mN)
Tracking angle 23°
Internal impedance, DC resistance 7 Ohm
Recommended load impedance  > 10 Ohm
Coil wire material Aucurum, gold-plated, 6NX oxygen free copper
Cartridge body material SLM Titanium
Cartridge colour Silver
Cartidge weight 9.5 g
Audiofi is your Ortofon Verismo dealer, we ship free in Canada