---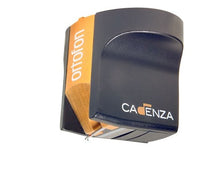 Cadenza Bronze is a true high-end reference cartridge, conveying music with supreme precision, impact and dynamics.

The Cadenza Bronze model is using a Replicant 100 stylus and a conical aluminium cantilever. 
The coil wire is the famous Ortofon Aucurum wire, which is a gold plated 6NX copper wire. 
Field Stabilizing Element/FSE, is used for optimal linearity especially during complex crescendo passages.

Cadenza Bronze stereo imaging capabilities illuminate the farthest corners of the soundstage in all three dimensions
Reviews
"The Ortofon Cadenza Bronze is tough to beat.  Most other cartridges offering this level of performance, revealing this much music in such an unobtrusive way, tend to cost at least a thousand dollars more – hence our willingness to bestow one of our Exceptional Value Awards"    
read the
review in Tone Magazine
Specifications
Output voltage at 1000 Hz, 5cm/sec. - 0.4 mV
Channel balance at 1 kHz - < 1 dB
Channel separation at 1 kHz - > 24 dB
Channel separation at 15 kHz - > 20 dB
Frequency response 20 Hz - 20 kHz - +/-1.5
Tracking ability at 315Hz at recommended tracking force *) - 80 µm
Compliance, dynamic, lateral - 12 µm/mN
Stylus type - Nude Ortofon Replicant 100 on conical alu cantilever
Stylus tip radius - r/R 5/100 µm
Tracking force range - 2.2-2.7 g (22-27 mN)
Tracking force, recommended - 2.5 g (25 mN)
*) Typical value
Tracking angle - 23°
Internal impedance, DC resistance - 5 Ohm
Recommended load impedance - 50-200 Ohm
Cartridge body material - Stainless steel / Aluminium
Cartridge colour - Bronze/Black
Cartridge weight - 10.7 gram
 Sold by audiofi, we ship free in Canada