---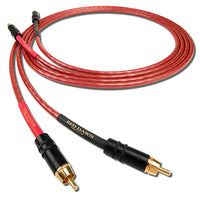 Description
RED DAWN ANALOG INTERCONNECT
The Red Dawn Interconnect represents the performance pinnacle of the Leif Series. This cable yields the best performance possible in an interconnect without using Micro Mono-Filament/TSC cable design. But despite its relatively conventional appearance, there's more to this cable than meets the eye.
The Red Dawn Analog Interconnect uses a fully-shielded design that can be terminated for balanced or single-ended connection. It employs six, heavy-gauge 24 AWG, silver-plated 99.9999% OFC solid-core conductors, precision wound in a minimum cross-section configuration that eliminates unnecessary fillers or padding elements. The insulation used is high-grade FEP, selected for its superior dielectric performance, while the elegant minimalism extends to the carefully selected low-mass connectors and differential grounding. Like all Nordost cables, the Red Dawn LS Analog Interconnect is manufactured and hand-terminated in the USA, enabling us to further guarantee consistent performance. The result is a high-speed, low-loss interconnect that fully preserves the sense of musical power and momentum, scale and drama, delivering your recordings with delicacy on demand. You will be shocked by the life and vitality that Red Dawn LS brings to your system and your music. 
Reviews
"My experience with the Nordost cables leaves me speechless, if that is even possible. Overall, the difference is nothing short of spectacular. In fact, during the review several friends and colleagues remarked that the reference system for this review has never sounded nearly as good.  Personally, I have to agree with them wholeheartedly. I thought the old cables made a huge difference in my system, but the new ones overshadow them exponentially. In conclusion, if you are looking to build a new system or upgrade an existing system, you owe it to yourself to audition these cables. They represent a serious value and stellar performance within their price range. In my case, they have left me with the unchanging fact that I need to upgrade my cables to at least this level, because anything less would be unthinkable"
read the review – Brett Rudolph, Enjoy the Music.com
Specifications
Insulation: Fluorinated Ethylene Propylene (FEP)
Construction: Mechanically tuned lay
Conductors: 6 x 24 AWG
Material: Silver-plated 99.9999% solid core OFC
Capacitance: 60.0pF/ft
Inductance: 0.035μH/ft
Overall Shield Coverage: 95%
Velocity of Propagation: 80%
Termination: Gold-plated RCA or XLR
Audiofi is your Nordost dealer in Vancouver, we ship free in Canada