---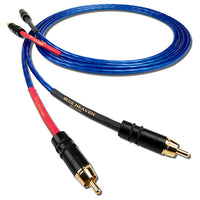 Description
The Blue Heaven  Analog Interconnect can be terminated for balanced or single-ended connection. (please note your preference between RCA or XLR on your order)
It employs four, heavy-gauge 24 AWG, silver-plated 99.9999% OFC solid-core conductors, precision wound in a minimum cross-section configuration that eliminates unnecessary fillers or padding elements. The insulation is high-grade FEP, selected for its superior dielectric performance, while the elegant minimalism extends to the carefully selected low-mass connectors and differential grounding. Like all Nordost cables, the Blue Heaven LS Analog Interconnect is manufactured and hand-terminated in the USA, enabling us to further guarantee consistent performance. The result is a high-speed, low-loss interconnect that preserves the sense of musical power and momentum, bringing believable shape and presence to performers, color, life, and drama to their performances.
Reviews
"This interconnect offers superb detail, a full soundstage, and really refined performances"
read the review in HiFi Choice
"The Blue Heaven certainly lives up to its manufacturer's claims of offering accurate signal transfer at a relatively affordable price. Certainly, the improvement garnered over only slightly less expensive interconnects I've heard was quite something – with especially impressive detail and sound staging. Value-wise it punches well above its weight, so it is well worth auditioning"
read the review in Stereonet
SPECIFICATIONS
Termination: Gold-plated RCA or XLR
Insulation: Fluorinated Ethylene Propylene (FEP)
Construction: Mechanically tuned lay
Conductors: 4 x 24 AWG
Material: Silver-plated 99.9999% solid core OFC
Capacitance: 45.0pF/ft
Inductance: 0.046μH/ft
Overall Shield Coverage: 95%
Velocity of Propagation: 80%

Audiofi is your Nordost dealer in Vancouver, we ship free in canada