---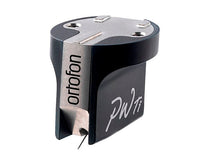 Ortofon Winfield Ti MC Cartridge
"Over the past few years, Johannsen has been trickling down the magnet and armature technology he originally developed for the top-of-the-line MC Anna (US$8924), first to the MC A95 and now to the Windfeld Ti. The Anna's magnet system is designed with carefully optimized geometry and materials that produce consistent flux density and a magnetic field of uniform strength, which Ortofon says result in identical flux density around and within each coil, regardless of its position. This, they claim, preserves dynamics and impulse linearity.
Of equal if not greater significance is that the Anna's optimized magnet system meant that its polymer-based armature could be nonmagnetic and lightweight. Because the armature is nonmagnetic, when it moves it doesn't alter the magnetic field, which means it can move more freely and without magnetic resistance. Yet the system's magnetic efficiency is high enough that the number of coil turns could remain low to keep the mass down while still generating an output of 0.2mV. All in all, an impressive engineering achievement."
"Derived from the first Windfeld model—which was designed by Ortofon's head of R&D, Leif Johannsen, and named for his predecessor in that position, Per Windfeld—the new Windfeld Ti MC cartridge differs from the original in its use of a titanium body core that flares at the top to form its mounting platform, which is drilled and tapped for cartridge bolts of the usual sort. (The Windfeld Ti's outer body is made of stainless steel.) The Ti's armature is also less magnetic than the first Windfeld's: a windfall (sorry) of the new cartridge's more sophisticated magnet structure. Other pertinent specs include an output of 0.2mV, an internal impedance of 7 ohms, and a specially polished, nude Replicant 100 stylus tip. According to MF, the Windfeld Ti, with which he used a vertical tracking force of 2.3gm, "retained all of the sweetness and lushness of the original Windfeld." He added that "no one will be disappointed by the Windfeld Ti's reproduction of space." Mikey's conclusion: "[$5159] buys you a piece of the highest echelon of cartridge performance for thousands fewer bucks." (Vol.40 No.8)"
read the review in Stereophile's Analog Planet
Stereophile Awards Winner
Stereophile.com Analog Corner December 2020
Reviewed by Michael Fremer

"...The Windfeld Ti is a high-performance cartridge that extracts and provides a great deal of detail, but it is not at all "analytical" or mechanical sounding. It's sort of the "Dockers" of high-performance Ortofons. The cartridge has a relatively sweet, lush midrange compared to the more detail-oriented Ortofons like the A95 and especially the new Anna Diamond. The Windfeld Ti is harmonically generous, with transients that are clean but don't bite..."
Winfield wins the Absolute Sound Product of the year award
"...Sonically, the Ti allows a listener to play nearly every album in his  catalog without being bothered by any sins of commission. This ability to play whatever, whenever, is one of the MC Windfeld Ti's biggest assets. If you value high neutrality and high resolution, low coloration and low distortion, and tracking ability that rivals the best moving magnets, then this outstanding new moving coil is for you..."

Specifications
Output voltage at 1000 Hz, 5cm/sec. - 0.2 mV
Channel balance at 1 kHz  -  0.5 dB 
Channel separation at 1 kHz  -  25 dB
Channel separation at 15 kHz  -  20 dB
Frequency range at - 3dB  -  10 Hz - 50 kHz
Frequency response  -  20 Hz - 20 kHz +2 dB/- 1 dB
Tracking ability at 315Hz at recommended tracking force  -  90 µm
Compliance, dynamic, lateral  -  13 µm/mN
Stylus type  -  Special polished Nude Ortofon Replicant 100 on Boron Cantilever
Stylus tip radius  -  r/R 5/100 µm
Tracking force range  -  2.0-2.5 g (20-25 mN)
Tracking force, recommended  -  2.3 g (23 mN)
Tracking angle  -  23°
Internal impedance, DC resistance  -  7 Ohm
Recommended load impedance  -   > 10 Ohm
Coil wire material  -  Aucurum
Cartridge body material  -  SLM Titanium and Stainless Steel
Cartridge colour  -  Titanium/Black
Cartridge weight  -  11 g
Sold by Audiofi, we ship free in Canada