---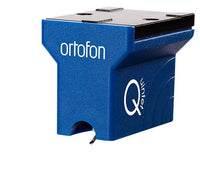 Ortofon Quintet Blue
The best cartridge in the under $1000 category
Why moving coil? In Moving magnet cartridges the higher mass of the magnets connected to the cantilever fight its ability to change direction and follow rapid modulations in the groove. Moving coils are lighter, faster, and more resolving. They have a lower output and need a dedicated step-up MC input on your amplifier. 

Along with the moving coil engine, other refinements of the Ortofon Quintet Blue are:
- A nude elliptical diamond is mounted directly onto the cantilever for improved dynamics and transient attack
- A non-resonant body made of Hopelex
- Split pole pins with copper wire
We say: We have come to respect cartridges like the Benz Micro SL, Grado Reference, Nagaoka MP-300, and Sumiko Blue Point Special. How does this modern cartridge design compare?
read the 
Group Test review


Specifications
Output Voltage (at 1kHz, 5cm/sec): 0.5mV

Channel Balance at 1kHz: <1.5dB

Channel Separation at 1kHz: >21dB

Channel Separation at 15kHz: >14dB

Frequency Range (at -3dB): 20 Hz - 25 kHz

Frequency Response 20Hz - 20kHz: ± 2.5dB

Tracking Ability at 315Hz: 70μm

Compliance, Dynamic, Lateral: 15μm / mN

Stylus Type: Nude Elliptical Stylus

Tip Radius r / R: 8 / 18μm

Tracking Force Range: 2.1 - 2.5g (21 - 25mN)

Recommended Tracking Force: 2.3g (23mN)

Tracking Angle: 20º

Internal Impedance / DC Resistance: 7Ω

Recommended Load Impedance: >20Ω

Cartridge Body Material: ABS/Alu.

Cartridge Colour: Blue Cartridge Weight: 9g

Audiofi is your Ortofon dealer in Vancouver, we ship free in Canada