---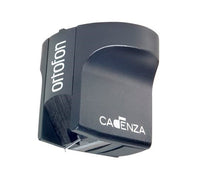 Ortofon Cadenza Black MC Cartridge
The Cadenza Black model is using a Nude Shibata stylus with a boron cantilever. The effective mass of the stylus/cantilever system is extremely low due to the use of a very thin boron rod. This material is extremely stiff and even more lightweight than aluminium.
It also uses the WRD/Wide Range Damping-system applied for MC Windfeld, MC A90, MC Anna, Xpression and MC A95 cartridges, controlling the high and low frequency damping separately.
The coil wire is the famous Ortofon Aucurum wire, which is a gold plated 6NX copper wire.
Reviews
"Playing a 1997 test pressing of Ahmad Jamal's Alhambra, MF found that, with the Cadenza Black, SME's Model 6 turntable "exploded to life." It offered "drum slam, transparency, and bass finesse." (Vol.44 No.5 WWW)"
Stereophile Product Awards
Stereonet Applause Award, April 2022
Reviewed by David Price
"Ortofon's Cadenza Black is a great real-world moving coil, being super-accomplished in absolute terms without being crazily priced. It has a calm, measured but highly detailed and intimate presentation that many will love. "
read the review

Specifications
Output voltage at 1000 Hz, 5cm/sec. - 0.33 mV
Channel balance at 1 kHz - < 0.8 dB
Channel separation at 1 kHz - > 27 dB
Channel separation at 15 kHz - > 20 dB
Frequency response 20 Hz - 20 kHz - +1.5/0
Tracking ability at 315Hz at recommended tracking force *) - 90 µm
Compliance, dynamic, lateral - 16 µm/mN
Stylus type - Nude Shibata on Boron cantilever
Stylus tip radius - r/R 6/50 µm
Tracking force range - 2.0-2.5 g (20-25 mN)
Tracking force, recommended - 2.3 g (23 mN)
Tracking angle - 20°
Internal impedance, DC resistance - 5 Ohm
Recommended load impedance - > 10 Ohm
Cartridge body material - Stainless steel Aluminium
Cartridge colour - Black/Black
Cartridge weight - 10.7 gram
Audiofi is your Ortofon Cadenza Black dealer, we ship free in Canada