---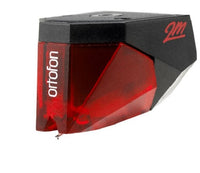 Ortofon 2M Red 
Unbeatable in the sub $200 category

The Ortofon 2M Red is certainly a very entertaining cartridge, providing a big, solid, spacious sound with good detail and excellent dynamics. The delivery is crisp and punchy across the entire frequency range, with a particularly nicely textured bass, and can be very impressive on well-recorded material.
Features
A tipped elliptical diamond 
An improved engine, with split pole pins and copper wire, for higher output and dynamics
A body made of resonance reducing Hopelex
"...The 2M line has become a de-facto reference for moving-magnet cartridges...it is due to both the sound quality of the various 2M models"
Specifications
Output voltage at 1000 Hz, 5cm/sec.  -  5.5 mV
Channel separation at 1 kHz  -  22 dB
Channel separation at 15 kHz  -  15 dB
Frequency range at - 3dB  -  20-22.000 Hz
Frequency response  -  20-20.000 Hz + 3 / - 1 dB
Compliance, dynamic, lateral  -  20 µm/mN
Stylus type  -  Elliptical
Tracking force range  -  1.6-2.0 g (16-20 mN)
Tracking force, recommended  - 1.8 g (18 mN)
Internal impedance, DC resistance  -  1.3 kOhm
Internal inductance  -  700 mH
Recommended load resistance  -  47 kOhm
Recommended load capacitance  -  150-300 pF
Replacement stylus unit  -  2M Red (interchangeable with 2M Blue and 2M silver) 


Audiofi is your Ortofon dealer in Vancouver, we ship free in Canada