---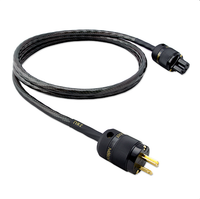 TYR 2 Power Chord
Nordost's new Tyr 2 Power Cord benefits from the extensive research made in creating Valhalla 2, therefore extending our celebrated Norse 2 cable range into the realm of our Reference line. By employing Nordost's proprietary Dual Mono-Filament technology, which is also found in Valhalla 2, the Tyr 2 Power Cord is able to achieve the most effective insulation method in the industry, putting this cable a step above its Norse brothers and bounds ahead of the competition. This cable consists of 7 silver plated, solid core 16 AWG OFC conductors, which eliminate strand interaction, hot spots and carbonization to ensure optimum performance. The use of these conductors also allows complete material consistency with Norse 2 interconnects and speaker cables.
Like the Heimdall 2 and Frey 2 Power Cords, the Tyr 2 Power Cord uses extruded FEP insulation, which is superior to all other materials in terms of low signal loss and high thermal efficiency. The use of FEP in a Dual Mono-Filament construction guarantees that power is transferred more effectively, while the low resistance of the cable keeps power loss extremely low.
Finally, the Tyr 2 Power Cord implements mechanically tuned lengths. This technique, used in Nordost's Norse 2, Reference, and Supreme Reference ranges, reduces internal microphony and high-frequency impedance resonance. The benefits can be heard at both ends of the scale– in the sheer impact that comes with real instrumental presence and explosive dynamics, and the color, texture and intimacy that brings a voice or solo instrument to life. The result is the most musically coherent and involving performance you'll ever have heard from your system and recordings.
Reviews
"…the Tyr 2 power cables provided a substantial improvement to the sound, one that would be difficult to live without, now that I've heard it. At certain times, I felt that the difference was almost as significant as if I replaced one of the key components in my system."  – Suave Kajko, Novo         read the review
Norse Interconnects etc Soundstage Ultra
"The Tyr 2 interconnects offered an increased amount of breathing space between the vocals and the various instruments… the result was a further enhancement and increased definition of the already holographic soundstage. Sonically, the interconnects managed to get themselves completely out of the way and connect me with the music on a more engaging level." – Suave Kajko, Novo
Outfitting an audio System with Nordost Norse 2 TYR 2
"It would take a big set of stones for me to try to convince you that you should run right out and wire up your entire system with Nordost's Norse 2 Tyr 2 interconnects, speaker cables, and power cords. The Tyr 2s are about twice the prices of the Freys, and the Freys are already expensive. Saying that this stuff is not cheap is perhaps the ultimate understatement.
But the Tyr 2s are really no more expensive than other top-flight cables, and in a world of $100,000 amplifiers and $250,000/pair speakers, merely expensive is the new cheap. There's no question in my mind that the Norse 2 Tyr 2s sound superb. Inserting them in an already great-sounding system previously lashed up with their little brother Freys, I clearly heard consistent gains in all categories of sound. How often does that happen? How much is it worth? With Nordost's Norse 2 Tyr 2s, I'm extremely confident you'll get your money's worth, which in the world of cables, is far from a given"
read the review in Soundstage Ultra
Specifications
Insulation:  Fluorinated Ethylene Propylene (FEP)
Construction:  Mechanically tuned lay, length, and Dual Mono-Filament design
Conductors:    7 x 16 AWG
Material:          Silver-plated 99.99999% solid core OFC
DC Resistance: 1.33 Ohms per 1000ft
Velocity of Propagation:  91%
Terminations:   US (Nema), EU (Schuko), UK or AUS to IEC-C15 to IEC-C19. Figure 8 IEC-C7 also available
Audiofi is your Nordost dealer in Vancouver, we ship free in Canada