---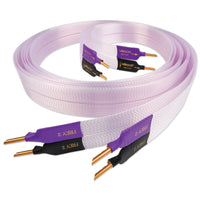 Nordost Frey 2 Speaker Cable
Norse 2 Series loudspeaker cables deliver a level of performance not previously possible at their price points. Nordost's proprietary Micro Mono-Filament construction creates a virtual air dielectric complete with an elegantly engineered suspension system. When combined with silver-plated OFC solid-core conductors and extruded flat ribbon FEP insulation, the result is the ideal electrically and mechanically controlled construction for ultra-fast, low-loss signal transfer between amplifier and loudspeakers.
Frey 2 Speaker Cables offer superb detail, dynamic range, and weight, recreating the natural beauty and impact of any musical performance. The use of consistent technology and materials across the Norse 2 Series allows you to easily build a coherent cable solution, maximizing system performance.
Reviews
"Frey 2 has rebalanced the scales, taking the transient and micro-dynamic elements of the past and integrating them with richer mids and a brawnier, meatier bottom end that gives orchestral music more discernable atmosphere and weight. In a word, there's more fidelity to the live event"  – read the review by Neil Gader, The Absolute Sound 
"When the subject of conversation turns to the best cable manufacturers in the world, Nordost is usually one of the names that comes up. Their Frey 2 line combines a goodly amount of knowledge and engineering harnessed from their vaunted Valhalla cables, at an attainable price point -- no mean feat, given that they were designed and are made entirely in the US. Their terrific resolving ability is married to a sound of prodigious size and scale, qualities that any listener will be able to appreciate. Norse god Freyr would no doubt agree -- suksess!"
Nordost Frey Cable System Soundstage Ultra
"Nordost's reputation, the very professional promotion of its products at dealers, shows, and on social media, is pretty well benchmark. Cables can be difficult to promote, and so important, but also much misunderstood by civilians and disparaged by cloth-eared audiophiles. I'm not sure even the wonderful Nordost Frey 2 cables could convince them, but for those of us who love hearing what fine cables add to our system, the Frey 2 line from Nordost will be a certain and happy upgrade. Very highly recommended"
read the review in Audiophilia
Specifications
| | | |
| --- | --- | --- |
| Insulation: |   | Fluorinated Ethylene Propylene (FEP) |
| Construction: |   | Mechanically tuned spacing, length and Micro Mono-Filament design |
| Conductors: |   | 22 x 22 AWG |
| Material: |   | Silver-plated 99.99999% solid core OFC |
| Capacitance: |   | 10.3pF/ft |
| Inductance: |   | 0.135μH/ft |
| Velocity of Propagation: |   | 96% |
| Terminations: |   | Gold-plated Spade or Z-plug Banana  |