---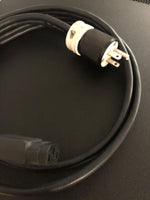 Sale
Tara Labs Space & Time AC Affinity power cable (1.8m)
4 available

These are Heavy Guage Solid Conductor audiophile power cords. Ideal for Amplifiers that benefit from ultra high current delivery.
Plugged into any component they provided a huge step up in musicality from the original manufacturer black molded cord. Starting from that low comparison threshold, they significantly improved transparency in the treble of the final sound, let through neutral mids, and supported more solid bass, together with more detail across the spectrum from a lowered noise floor. Construction is of 2 substantial parallel cables (see photos), and decent plugs (Hubbell, Bryant) and IEC connectors.

Condition is reliably worn, some scuffs and scratches on the plug blades and housing from real life use, but structurally and functionally without any issues.