---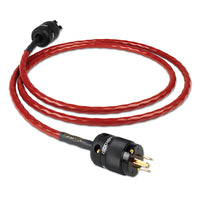 It used to be the case that all systems ran on stock power cords, but recent experience has shown that, far from the occasional afterthought they once were, properly designed audiophile power cords are fundamental to system performance.  In fact, the effects are so demonstrable, so obvious, that power cords are fast assuming their proper position as the most important cables in your system
Reviews
"My experience with the Nordost cables leaves me speechless, if that is even possible. Overall, the difference is nothing short of spectacular. In fact, during the review several friends and colleagues remarked that the reference system for this review has never sounded nearly as good.  Personally, I have to agree with them wholeheartedly. I thought the old cables made a huge difference in my system, but the new ones overshadow them exponentially. In conclusion, if you are looking to build a new system or upgrade an existing system, you owe it to yourself to audition these cables. They represent a serious value and stellar performance within their price range. In my case, they have left me with the unchanging fact that I need to upgrade my cables to at least this level, because anything less would be unthinkable"
read the review – Brett Rudolph, Enjoy the Music.com
"The full force and power of the performance shine through my system with a wide and spacious three-dimensional soundstage. This is certainly a high-quality power cable worthy of any top-end system"
read the review in HiFi Choice
Specifications                                                                    

Insulation: Fluorinated Ethylene Propylene (FEP)
Construction:   Mechanically tuned lay, Micro Mono-Filament design
Conductors:     3 x 14 AWG
Material:          105 strand 99.9999% OFC
Capacitance:    10pF/ft
Inductance:      0.10 μH/ft
DC Resistance: 2.8 Ohms per 1000ft
Velocity of Propagation:  81%
Termination:    US (Nema), EU (Schuko), UK or AUS to IEC-C15 or IEC-C19 connectors. Figure 8 IEC-C7 also available
Audiofi is your Nordost dealer in Vancouver, we ship free in Canada