---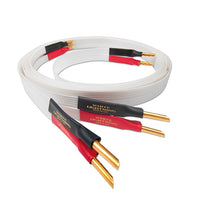 Nordost White Lightning Speaker Cable
Nordost's Flatline loudspeaker cable arranges conductors on a flat plane for the lowest inter-cable interference.
They introduced the audio world to an entirely new level of performance and a unique production technique. The proprietary, extruded FEP cables, with their thin, flat profile don't just look different - their deceptive simplicity is a uniquely elegant answer to the conflicting requirements for low resistance, capacitance, and inductance that limit the performance of more conventional cable configurations.
White Lightning Speaker Cables establish an entirely new performance benchmark at this price point and deliver greater power and musical purpose from your system than you would have thought possible.
Reviews
"Like an Aural Accelerator"
"White Lightning cables are like an aural accelerator, playing the leading edges of music with precision and speed of attack as if the musician was unimpeded by the recording and replay processes." – Alan Sircom, Hi-fi+
Awarded the "Exceptional Value" award
read the review White Lightning Speaker Cable Tone Publications
Specifications
| | | |
| --- | --- | --- |
| Insulation: |   | Fluorinated Ethylene Propylene (FEP) |
| Construction: |   | Mechanically tuned spacing |
| Conductors: |   | 10 x 26 AWG |
| Material: |   | Silver-plated 99.9999% solid core OFC |
| Capacitance: |   | 8.7pF/ft |
| Inductance: |   | 0.18μH/ft |
| Velocity of Propagation: |   | 94% |
| Termination: |   | Gold-plated Spade or Z-plug Banana  |
Audiofi is your Nordost dealer, we ship free in Canada