---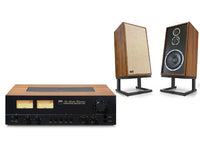 Two of the Most Iconic Brands come together for a stunning Vintage inpired system.
NAD was founded in London, England, in 1972 by Dr. Martin L. Borish, an electrical engineer with a PhD in physics. Its most famous product is the late-1970s NAD 3020, an integrated amplifier designed by Bjørn Erik Edvardsen, which was highly regarded by various magazines in Britain
KLH was founded by Henry Kloss, a prominent American audio engineer credited as helping advance high-fidelity loudspeaker technology. After college studies in physics at the Massachusetts Institute of Technology and High Fidelity at New York University, Henry went on to found and co-found several well-known audio brands over the course of several decades, this includes Acoustic Research, KLH, Advent, Cambridge SoundWorks and Tivoli.
The new NAD C3050 and KLH 5 Speakers each represent cutting edge design to create one of the finest new systems at the price level.
 System consists of:
NAD C3050 $1899
KLH 5 Speakers $3748
System Special $4999
"The KLH M5s are intoxication kings, urging me to hear my most beloved vinyl via its big personality and well-scaled dimensionality." 
"Mostly, the speaker played with a detailed, sparkling upper/mid/treble chutzpah that favored and seemed to amplify texture and viscosity. Notes had realistic weight and body. These Model Fives are attention-getters of the first order, delivering a big soundstage and big, juicy dynamics." Stereophile
Sold by audiofi, we ship free in Canada