---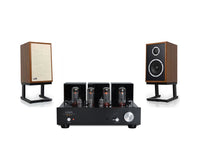 Sale
Two of the Most Iconic designs come together for a stunning Vintage inpired system.
Line Magnetic builds top quality vintage inspired vacuum tube amplifiers. Here is the back story: 
David Hafler, with the help of Bob Tucker, designed the Dynaco ST-70 in 1959 to reduce distortion and improve audio quality with four EL34 output tubes. At the time, solid-state amps were dominating the market and the ST-70 was available at a surprisingly affordable price. More than 350,000 ST-70 amplifiers had been sold when production finally ceased, making the ST 70 the most popular tube power amplifier ever made.
The Line Magnetic LM-431A is the closest thing to the ST70 and gets you into the beloved EL34.
EL34 is a widely used vacuum tube model for guitar amps and home stereo amplifiers. Most 60's era British bands used EL34 in their Marshall amplifiers!
Why EL34 not other tubes? – EL34 has unmatched musicality when compared with KT88 tubes, which offer more bass but lack of the sweetness of an EL34 sound. EL34 tubes can also take high voltage up to maximum 800V to deliver high power output. In some tube amp design, EL34 can deliver up to 50 watts of output per channel with its much desired musicality. This cannot be reached by 300B tubes so EL34 has its own sound niche and has been pursued by worldwide audiophiles and musicians for decades.
KLH was founded by Henry Kloss, a prominent American audio engineer credited as helping advance high-fidelity loudspeaker technology. After college studies in physics at the Massachusetts Institute of Technology and High Fidelity at New York University, Henry went on to found and co-found several well-known audio brands over the course of several decades, this includes Acoustic Research, KLH, Advent, Cambridge SoundWorks and Tivoli
The new NAD C3050 and KLH 3 Speakers each represent cutting edge design to create one of the finest new systems at the price level.
 System consists of:
Line Magnetic LM341A Amplifier $3350
KLH 3 Speakers $2200
Reviews
Line Magnetic LM341A
" What came as an unexpected surprise was the attention to detail and sheer quality that the manufacturer conjured up here. The execution being noticeably better than some equipment that I have previously purchased, at a price point much, much higher. In fact, even better than that of my experiences with equipment coming from manufacturers who are considered to be (or irrefutably are) at the top of heap."
"It is because of components like the LM-34IA, boasting attractive cosmetics, excellent sonic performance, solid construction and flexibility of features, that the budding audio enthusiast can confidently and soundly invest their "hard earned" while being safe in the knowledge they are in possession of a quality, well-built product. This is a responsive, well-engineered integrated amplifier."

read the review here
KLH Model 3
"I think the KLH Model Threes are one of the best deals and best-kept secrets in audio."
Robert Schryer, Stereophile read the review
Sold by audiofi, we ship free in Canada