---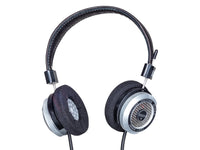 Precision Priority.
The Sound of Metal
With its metal housing, the SR325x brings a surgical precision to your music that you won't find in the rest of the Prestige Series. Better imaging of the space between the instruments paints a clearer picture of your music in their soundstage.
What We're Known For.
Signature Sound
Some of the marvels of a Grado driver are the clarity and range, revealing new notes and details in songs heard hundreds of times. With superlative tonal balance, dynamics, imaging, and realism, the SR325x lays out an extremely detailed presentation. 
A New Harmony.
X Series Driver
4th Generation Grado drivers are here. Specifically tuned for the SR325x, this new speaker design features a more powerful magnetic circuit, a voice coil with decreased effective mass, and a reconfigured diaphragm. Reengineering these components for our 44mm drivers improve efficiency, reduces distortion, and preserves the harmonic integrity of your music.
A Little Extra.
New Cables & Headband
Along with the speakers, the cables and headband have been redesigned for the SR325x. Housed in a more durable nylon-braided exterior, the now super annealed copper 8-conductor cable reveals even more of your music with improved purity. The new headband, exclusive to the SR325x in the Prestige Series, is made from calf-skin leather and features white stitching. Grado headbands have a tempered stainless-steel malleable tension core; manually adjust the shape to your own preference.
With Love.
Hand-Built in Brooklyn
Each SR325x is hand-built by our team in Brooklyn. This headphone goes from workbench to workbench until it's ready for your ears. We started building on a kitchen table in 1953, and every experience since then has led to the creation of the SR325x.
Reviews
"These open-backed headphones are the ones to beat at this level"
"Of course, you have to provide the Grados with a quality signal. If that 3.5mm connection tempts you into thinking that a phone, laptop or budget music player are going to be ideal partners, you'd be wrong. These headphones will still sound acceptable with such sources, but we'd be looking at an outboard DAC of the quality of Chord's Mojo for the laptop and phone, if we want to hear the scale of the SR325x's talents."
read the review in What HiFi
Specifications
Transducer Type: Dynamic
Operating Principle: Open Air
Frequency Response: 18 - 24,000 hz
SPL 1mW: 99.8 dB
Nominal Impedance: 38 ohms
Driver Matched dB: .05 dB
In the Box: Headphones, Warranty, Grado story-sheet, 6.5mm Golden Adapter
Audiofi is your Grado dealer, we ship free in Canada