---
Clearaudio Innovation Compact Turntable 
A turntable to buy next. 
You've owned a good turntable, and are looking into something better. We think the Clearaudio Innovation should be on your list of the best turntables to buy.
We say: Audiophiles will have seen Linn's LP12 turntable become the standard since its introduction in 1972. The company didn't invent the turntable but showed that there is more information to be extracted from a record. How did they do this? A good subject for a visit to a Coffee shop we think. Probably by their precise machining of the bearing, perhaps by their avoidance of resonances in the design of the sub-chassis and tonearm. read the story of Linn here
Similarly, Clearaudio didn't invent the turntable, but they have been the most innovative in passing the baton and moving forward.
Here are the reasons;
1) Bearing
Clearaudio took the notion that it wasn't enough to have a precisely machined center bearing like Linn uses that still runs on a hardened thrust pad. A tiny amount of noise is generated by the contact. Rather, Clearaudio has taken the bearing to the next level: 
Clearaudio Ceramic Magnetic Bearing (CMB)
Clearaudio's patented Ceramic Magnetic Bearing (CMB) is the result of long-term research and development.
Two opposing magnetic fields are perfectly aligned one on top of the other, thereby rejecting each other. The magnetic fields are completely shielded from the outside through the careful application of very sophisticated materials. A high precision ceramic vertical shaft fits perfectly into a bronze bearing. This perfect fit is essential and can only be achieved through the highest precision hand polishing.
High-performance synthetic oil is used for lubrication. The combination of these carefully selected components produces the effect of the turntable platter effectively floating on an air cushion, rather than on a ball bearing or bearing point.
The result of this technology? One of the lowest levels of friction in turntable bearing design, previously unreached rumble measurements and an unbeatable new standard in speed accuracy.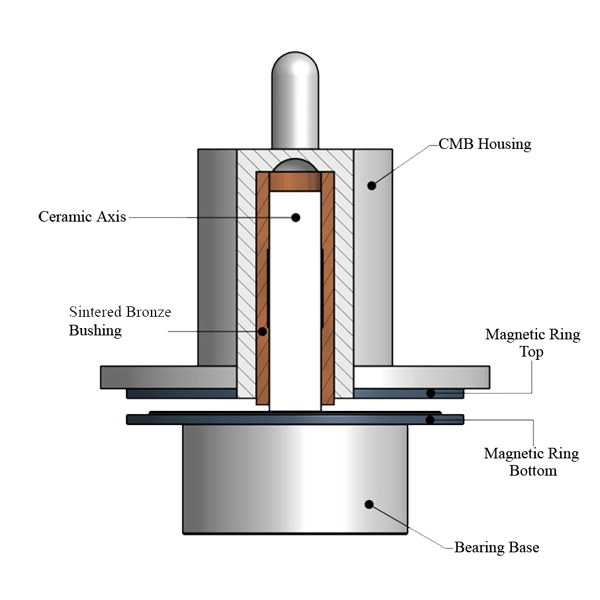 2) Sub chassis 
The optimally designed chassis keeps resonances out of the audible range and guarantees maximum stability in a housing made of a massive panzerholz (bulletproof wood) and aluminium sandwich.
Panzerholz is a high-tech, natural wood product manufactured in Germany. This remarkable material already contributes to the exceptional performance of a number of our turntables, thanks to its high density, high strength, and extremely low resonance. And yet, despite being dense enough to sink in water and strong enough to be bullet-proof, Panzerholz is also surprisingly light in weight.
3) Platter
The platter forms the foundation for the record. The problem in all turntables is that vibration and energy transferred down from the cartridge/record interaction makes the record vibrate - that's bad. Putting the record on a felt mat doesn't help. Putting the record on the 70mm-thick platter of the Innovation Compact that consists of dynamically balanced polyoxymethylene (POM) does. The platter material matches the record's density and forms an immovable mechanical bond. You will hear the extra dynamics transferred to the cartridge. The high mass also creates a speed consistency that is like velvet, able to power through strong piano notes that may slow down a lighter platter. 
4) Motor
The Innovation can power through complex high-energy passages without slowing down. It is powered by a high-torque DC motor with precision bearings, developed exclusively for Clearaudio. Thanks to optical speed control (OSC), speed stability values are obtained that lift this turntable into the global high-end class.
5) Tracer Tonearm
Nothing new to report except Carbon Fiber! Joke.
The minimalistic radial tonearm with carbon fiber construction is both extremely rigid and lightweight. The high precision, low friction tungsten/sapphire jeweled bearing assembly forms a precise immovable foundation for the cartridge. From huge dynamics to subtle atmospheric decays, it'll all come out more vividly than before.
Effortless anti-skating dial adjustment, underslung counterweight and aluminum headshell. Cartridge Range : 3.5 grams - 17 grams
Specifications
CONSTRUCTION DETAILS
Resonance–optimized chassis shape, made of laminated wood and aluminum with precision CNC machined surface.

All turntable feet are fine adjustable
Optical Speed Control (OSC)
Playback with two tonearms possible

SPEED RANGES
Comfortable speed change
33 ⅓ rpm, 45 rpm, 78 rpm
DRIVE UNIT

High torque DC motor with belt drive
Electronic Optical Speed Control (OSC)

BEARING
Clearaudio CMB ceramic magnetic bearing in main platter / upper drive platter assembly. Inverted bearing in lower drive platter.
PLATTER
70 mm / 2.75-inch main platter, made out of synthetic material with high density and excellent dimension stability, dynamically balanced
SPEED ACCURACY (MEASURED)
< ± 0.08 %
DEVIANCE OF THE SET VALUE
± 0.01 %
POWER CONSUMPTION
Max. consumption: 9.3 Watt
Consumption in operation: 2.5 Watt
Standby mode: 2.5 Watt
Off mode: 0.0 Watt
TOTAL WEIGHT
Approx. 12 kg (without tonearm and power supply)
DIMENSIONS

 

(W/D/H in inches)

Approx. 18.11 x 19.09 x 6.18 (with tonearm base, without tonearm)
DIMENSIONS

 

(W/D/H in mm)

Approx. 460 x 485 x 157 (with tonearm base, without tonearm)
WARRANTY
5 years*


* Provided the warranty card is fully completed and returned to Clearaudio within 2 weeks of purchase.